Vegetation of the Czech Republic
Association THG03
Viscario vulgaris-Avenuletum pratensis Oberdorfer 1949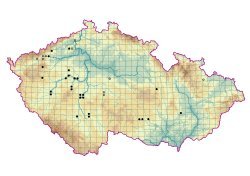 Photo on botanickafotogalerie.cz
When compared with the other associations of the alliance Koelerio-Phleion, this grassland type occurs in slightly cooler areas. It contains less thermophilous species and is mainly composed of generalists adapted to dry and acidic soils. Mosses and lichens are common. This association is typical of gentle slopes with shallow, acidic soils over basalt, gneiss, granite or shale. It forms secondary vegetation at sites potentially supporting acidophilous oak or beech forests. These grasslands are utilized for grazing, but after abandonment they decline due to spread of tall grasses, shrubs and trees. The localities of this association are scattered in moderately dry areas of the Bohemian Massif.
Nomen inversum propositum et nomen mutatum propositum
Orig. (Oberdorfer 1949): Avena pratensis-Viscaria vulgaris-Assoziation (Avena pratensis ~ Avenula pratensis, Viscaria vulgaris ~ Lychnis viscaria)
Syn.: Artemisio campestris-Corynephoretum canescentis Kučerová-Kosinová 1964, Phleo phleoidis-Koelerietum pyramidatae Toman 1988 p. p.
Diagnostic species: Cerastium arvense, Hieracium pilosella, Jasione montana, Koeleria pyramidata, Phleum phleoides, Potentilla tabernaemontani, Sedum reflexum, Thymus pulegioides, Trifolium arvense, Veronica verna; Cetraria aculeata, Lophozia excisa, Polytrichum piliferum
Constant species: Achillea millefolium agg. (predominantly A. collina), Cerastium arvense, Dianthus carthusianorum s. l. (D. carthusianorum s. str.), Euphorbia cyparissias, Festuca ovina, Hieracium pilosella, Hypericum perforatum, Knautia arvensis agg., Koeleria pyramidata, Luzula campestris agg., Phleum phleoides, Pimpinella saxifraga, Plantago lanceolata, Poa pratensis s. l., Potentilla tabernaemontani, Rumex acetosella, Sanguisorba minor, Thymus pulegioides, Trifolium arvense; Ceratodon purpureus, Polytrichum piliferum
Dominant species: Trifolium alpestre; Hypnum cupressiforme s. l.
Formal definition: Group Koeleria pyramidata AND (Group Jasione montana OR Group Phleum phleoides) NOT Group Viola canina
Source: Chytrý M. (2007): THG03 Viscario vulgaris-Avenuletum pratensis Oberdorfer 1949. In: Chytrý M. (ed.), Vegetace České republiky. 1. Travinná a keříčková vegetace [Vegetation of the Czech Republic. 1. Grassland and Heathland Vegetation]. Academia, Praha, pp. 456-458.