Vegetation of the Czech Republic
Association THH02
Geranio sanguinei-Dictamnetum albae Wendelberger ex Müller 1962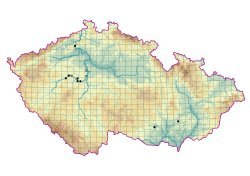 Photo on botanickafotogalerie.cz
This thermophilous vegetation type is dominated by the tall herb Dictamnus albus, accompanied by several broad-leaved herbs typical of semi-dry grasslands and the understorey of thermophilous oak forests. It is usually found on steep, south-facing slopes in the warm, dry areas of northern and central Bohemia and southern Moravia. The bedrocks are usually base-rich, including limestone, basalt or loess. This association is linked to thermophilous oak forests, occurring along both natural and secondary forest edges.
Orig. (Müller 1962): Geranio-Dictamnetum Wendelberger 54 (Geranium sanguineum, Dictamnus albus)
Syn.: Dictamno-Geranietum sanguinei Wendelberger 1954 (§ 2b, nomen nudum)
Diagnostic species: Arabis glabra, A. hirsuta agg., Centaurea triumfettii, Cotoneaster integerrimus, Dictamnus albus, Fragaria viridis, Galium glaucum, Lathyrus pannonicus, Linum austriacum, Melica transsilvanica, Origanum vulgare, Pyrethrum corymbosum, Stachys recta, Stipa pennata, Verbascum lychnitis
Constant species: Brachypodium pinnatum, Cotoneaster integerrimus, Dictamnus albus, Euphorbia cyparissias, Fragaria viridis, Galium glaucum, Hypericum perforatum, Pyrethrum corymbosum, Salvia pratensis, Securigera varia, Stachys recta, Teucrium chamaedrys, Verbascum lychnitis; Hypnum cupressiforme s. l.
Dominant species: Dictamnus albus
Formal definition: Dictamnus albus cover > 25 %
Source: Hoffmann A. (2007): THH02 Geranio sanguinei-Dictamnetum albae Wendelberger ex Müller 1962. In: Chytrý M. (ed.), Vegetace České republiky. 1. Travinná a keříčková vegetace [Vegetation of the Czech Republic. 1. Grassland and Heathland Vegetation]. Academia, Praha, pp. 461-463.