Vegetation of the Czech Republic
Association THI02
Trifolio-Melampyretum nemorosi Dierschke 1973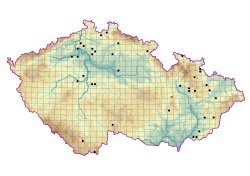 Photo on botanickafotogalerie.cz
This herbaceous community is dominated by Melampyrum nemorosum and contains species of mesic meadows and those typical of the understorey of mesic broad-leaved forests. It is widespread in cooler and wetter colline landscapes, and occasionally occurs also in submontane areas. It occupies sites of potential oak-hornbeam or beech forests and often occurs in canopy openings or along the edges of these forests. The community has a scattered distribution throughout the country, but its true extent is still not sufficiently known.
Orig. (Dierschke 1973): Trifolio-Melampyretum nemorosi ass. nov. (Trifolium medium, T. pratense)
Syn: Stachys betonica-Melampyrum nemorosum-Gesellschaft Passarge 1967 (§ 3c), Stachyo-Melampyretum nemorosi Passarge 1967 (fantom)
Diagnostic species: Melampyrum nemorosum
Constant species: Agrostis capillaris, Arrhenatherum elatius, Dactylis glomerata, Festuca rubra agg., Melampyrum nemorosum, Poa pratensis s. l., Veronica chamaedrys agg.
Dominant species: Agrostis capillaris, Melampyrum nemorosum
Formal definition: Melampyrum nemorosum cover > 25 %
Source: Hoffmann A. (2007): THI02 Trifolio-Melampyretum nemorosi Dierschke 1973. In: Chytrý M. (ed.), Vegetace České republiky. 1. Travinná a keříčková vegetace [Vegetation of the Czech Republic. 1. Grassland and Heathland Vegetation]. Academia, Praha, pp. 468-470.