Vegetation of the Czech Republic
Association VAA08
Ceratophyllo-Azolletum filiculoidis Nedelcu 1967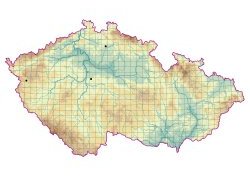 Photo on botanickafotogalerie.cz
This vegetation type is dominated by Azolla filiculoides, a thermophilous water fern of North American origin. It forms both open stands containing some lemnid species and dense stands, which entirely cover the water surface and may include several overlapping layers of the dominant species. In autumn these stands are remarkable owing to their purple to reddish colour. In the Czech Republic, vegetation with A. filiculoides has been so far only recorded in three small ponds inside villages.
Nomen mutatum propositum
Orig. (Nedelcu 1967): Ceratophylleto-Azolletum carolinianae Ass. nova (Azolla caroliniana = A. filiculoides, Ceratophyllum demersum, C. submersum)
Syn.: Lemno-Azolletum filiculoidis sensu auct. non Br.-Bl. in Br.-Bl. et al. 1952 (pseudonym)
Diagnostic species: Azolla filiculoides
Constant species: Azolla filiculoides, Lemna minor
Dominant species: Azolla filiculoides
Formal definition: Azolla filiculoides cover > 25 %
Source: Šumberová K. (2011): VAA08 Ceratophyllo-Azolletum filiculoidis Nedelcu 1967. In: Chytrý M. (ed.), Vegetace České republiky. 3. Vodní a mokřadní vegetace [Vegetation of the Czech Republic 3. Aquatic and wetland vegetation]. Academia, Praha, pp. 67-69.