Vegetation of the Czech Republic
Association VBA05
Trapetum natantis Kárpáti 1963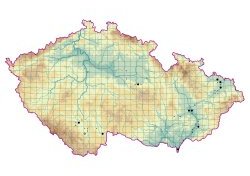 Photo on botanickafotogalerie.cz
This association is dominated by Trapa natans, an annual aquatic macrophyte rooted in the bottom, but producing most biomass on the water surface. It occurs in eutrophic water bodies such as oxbows and fishponds. Its occurrence can be ephemeral, but on sites with more permanent occurrence it significantly contributes to terrestrialization. Due to its edible seeds T. natans was probably introduced by humans to various areas outside its natural range. In the Czech Republic it occurs in southern and eastern Bohemia and lowland areas of Moravia.
Orig. (Kárpáti 1963): Trapetum natantis nov. ass.
Syn.: Trapo natantis-Nymphoidetum peltatae Oberdorfer 1957 p. p. (§ 36, nomen ambiguum), Trapetum natantis Müller et Görs 1960 (fantom), Trapa natans-Bestände Müller et Görs 1960
Diagnostic species: Najas marina. Salvinia natans. Spirodela polyrhiza, Trapa natans
Constant species: Lemna minor. Spirodela polyrhiza, Trapa natans
Dominant species: Ceratophyllum demersum, Trapa natans
Formal definition: Trapa natans > cover 25 %
Source: Šumberová K. (2011): VBA05 Trapetum natantis Kárpáti 1963. In: Chytrý M. (ed.), Vegetace České republiky. 3. Vodní a mokřadní vegetace [Vegetation of the Czech Republic 3. Aquatic and wetland vegetation]. Academia, Praha, pp. 121-124.