Vegetation of the Czech Republic
Association VBB15
Potametum trichoidis Tüxen 1974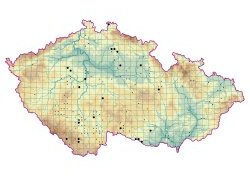 Photo on botanickafotogalerie.cz
This vegetation type is dominated by Potamogeton trichoides, a submerged aquatic macrophyte, which occurs in mesotrophic to slightly eutrophic, calcium-rich, clear water, particularly in small fishponds, and less frequently in alluvial pools, oxbows, flooded sand pits and slow-moving water. Its localities are scattered in lowlands and colline landscapes across the Czech Republic. The occurrence of P. trichoides in individual localities is often ephemeral, and in recent decades this species has slightly decreased because of eutrophication.
Orig. (Tüxen 1974a): Potamogeton trichoides-Ass.
Syn.: Potamogeton trichoides-Gesellschaft Freitag et al. 1956 (§ 3c), Myriophyllo alterniflori-Potametum trichoidis Velayos et al. 1989 p. p.
Diagnostic species: Potamogeton trichoides
Constant species: Lemna minor, Potamogeton trichoides
Dominant species: Ceratophyllum demersum, Potamogeton trichoides
Formal definition: Potamogeton trichoides cover > 25 % NOT Batrachium aquatile s. l. cover > 25 % NOT Calla palustris cover > 25 % NOT Glyceria fluitans cover > 25 %
Source: Šumberová K. (2011): VBB15 Potametum trichoidis Tüxen 1974. In: Chytrý M. (ed.), Vegetace České republiky. 3. Vodní a mokřadní vegetace [Vegetation of the Czech Republic 3. Aquatic and wetland vegetation]. Academia, Praha, pp. 184-186.