Vegetation of the Czech Republic
Association VBB18
Potametum crispi von Soˇ 1927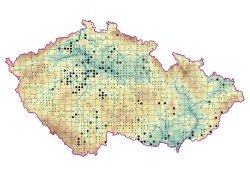 Photo on botanickafotogalerie.cz
This vegetation type is dominated by Potamogeton crispus, a submerged aquatic macrophyte occurring in both lentic and lotic water bodies, most frequently in fishponds, flooded sand pits, oxbows and alluvial pools, usually up to 1 m deep. This association is typical of eutrophic to hypertrophic water, including water containing organic or toxic pollutants. It is common from lowland to submontane areas across the Czech Republic.
Orig. (von Soˇ 1927): Potametum crispi
Syn.: Potametum crispi Kaiser 1926 (ž 3d, association of Uppsala School), Myriophyllo-Potametum Soˇ 1934 potametosum crispi SlavniŠ 1956, ßCeratophyllo-Potametum.crispi HorvatiŠ et Micevski 1960 p. p.ß, Potametum crispi Zutshi 1975
Diagnostic species: Potamogeton crispus
Constant species: Potamogeton crispus
Dominant species: Potamogeton crispus
Formal definition: Potamogeton crispus cover > 25 % NOT Nuphar lutea cover > 25 % NOT Potamogeton natans cover > 25 % NOT Phragmites australis cover > 25 %
Source: ęumberovß K. (2011): VBB18 Potametum crispi von Soˇ 1927. In: Chytrř M. (ed.), Vegetace ╚eskÚ republiky. 3. VodnÝ a mok°adnÝ vegetace [Vegetation of the Czech Republic 3. Aquatic and wetland vegetation]. Academia, Praha, pp. 193-196.