Vegetation of the Czech Republic
Association VBB23
Potametum friesii Tomaszewicz ex Šumberová in Chytrý 2011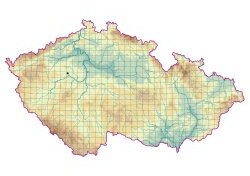 Photo on botanickafotogalerie.cz
This species-poor association is dominated by Potamogeton friesii, a submerged macrophyte. In the Czech Republic it was historically recorded at a few sites in mesotrophic fishponds, pools and in a water reservoir. Currently this species and association is probably extinct in this country.
Syn.: Potametum friesii Iversen 1929 (fantom), Potametum mucronati Miljan 1933 (§ 2b, nomen nudum), Potametum mucronati Sauer 1937 (fantom), Potametum perfoliati potametosum mucronati Sauer 1937, Potametum mucronati Tomaszewicz 1979 (§ 5)
Diagnostic species: Potamogeton friesii
Constant species: Lemna minor, Potamogeton friesii, P. pusillus agg.
Dominant species: Potamogeton friesii
Formal definition: Potamogeton friesii cover > 25 %
Source: Šumberová K. (2011): VBB23 Potametum friesii Tomaszewicz ex Šumberová in Chytrý 2011. In: Chytrý M. (ed.), Vegetace České republiky. 3. Vodní a mokřadní vegetace [Vegetation of the Czech Republic 3. Aquatic and wetland vegetation]. Academia, Praha, pp. 208-209.