Vegetation of the Czech Republic
Association VCA02
Charetum braunii Corillion 1957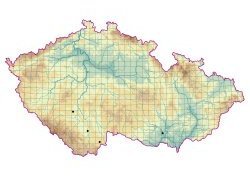 Photo on botanickafotogalerie.cz
This association is dominated by Chara braunii, occurring in mesotrophic to eutrophic water. Relevés have so far been recorded at only three sites in southern Bohemia and one site in southern Moravia. The habitats were fishponds and fish storage ponds.
Orig. (Corillion 1957): Charetum Braunii
Syn.: Najadeto-Charetum braunii Randelović et Blaženčić 1996 p. p.
Diagnostic species: Chara braunii, Limosella aquatica
Constant species: Alisma plantago-aquatica. Callitriche palustris s. l. (predominantly C. palustris s. str.), Chara braunii, Limosella aquatica. Persicaria hydropiper
Dominant species: Chara braunii, Elatine triandra, Potamogeton pusillus agg. (P. pusillus s. str.)
Formal definition: Chara braunii cover > 25 % NOT Butomus umbellatus cover > 25 %
Source: Šumberová K., Hrivnák R., Rydlo J. & Oťaheľová H. (2011): VCA02 Charetum braunii Corillion 1957. In: Chytrý M. (ed.), Vegetace České republiky. 3. Vodní a mokřadní vegetace [Vegetation of the Czech Republic 3. Aquatic and wetland vegetation]. Academia, Praha, pp. 253-256.