Vegetation of the Czech Republic
Association VDB01
Eleocharito-Littorelletum uniflorae Chouard 1924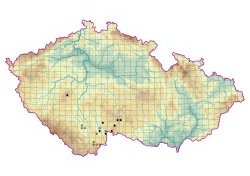 Photo on botanickafotogalerie.cz
This low-growing grassland-like vegetation type is dominated by Littorella uniflora and often codominated by Eleocharis acicularis. When flooded, it is poor in species, but annual wetland herbs appear on exposed bottom after water drawdown. This vegetation occurs in the littoral zone of a few oligotrophic to mesotrophic fishponds and water bodies in the Bohemian-Moravian Uplands, Třeboň Basin and the Brdy Mountains.
Nomen mutatum propositum et nomen inversum propositum
Orig. (Chouard 1924): Association des grèves a Littorella et Heleocharis .Littorella lacustris = L. uniflora. Heleocharis acicularis = Eleocharis acicularis. Heleocharis multicaulis = Eleocharis multicaulis. Heleocharis ovata = Eleocharis ovata. Heleocharis palustris = Eleocharis palustris)
Syn.: Eleocharitetum acicularis Koch 1926, Littorello lacustris-Scirpetum acicularis Jouanne 1926, Littorello uniflorae-Eleocharitetum acicularis Malcuit 1929, Eleocharitetum acicularis Koch ex Tüxen 1937, Myriophyllo-Littorelletum Jeschke 1959 p. p.
Diagnostic species: Bidens tripartita. Centunculus minimus. Elatine hexandra, Eleocharis acicularis, Gypsophila muralis. Illecebrum verticillatum. Juncus bulbosus, Littorella uniflora, Potentilla norvegica. Radiola linoides. Tillaea aquatica
Constant species: Bidens tripartita. Eleocharis acicularis, Littorella uniflora
Dominant species: Eleocharis acicularis, Littorella uniflora, Trifolium campestre
Formal definition: Littorella uniflora cover > 5 % NOT Pilularia globulifera cover > 5 %
Source: Šumberová K. (2011): VDB01 Eleocharito-Littorelletum uniflorae Chouard 1924. In: Chytrý M. (ed.), Vegetace České republiky. 3. Vodní a mokřadní vegetace [Vegetation of the Czech Republic 3. Aquatic and wetland vegetation]. Academia, Praha, pp. 282-286.