Vegetation of the Czech Republic
Association VDB05
Luronietum natantis Szańkowski ex Šumberová, Čtvrtlíková et Bauer in Chytrý 2011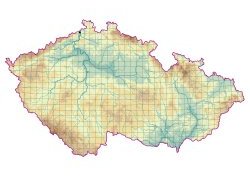 Photo on botanickafotogalerie.cz
This association is formed of monospecific stands of Luronium natans, an aquatic macrophyte with leaves floating on the water table. The only two Czech localities of this species and association are found in a mesotrophic, lightly managed fishpond and a water tank in the Elbe sandstone area in northern Bohemia.
Syn.: Luronietum natantis Szańkowski 1998 ms. (§ 1)
Diagnostic species: Luronium natans
Constant species: Batrachium aquatile s. l., Luronium natans
Dominant species: Luronium natans
Formal definition: Luronium natans cover > 5 %
Source: Šumberová K., Čtvrtlíková M. & Bauer P. (2011): VDB05 Luronietum natantis Szańkowski ex Šumberová, Čtvrtlíková et Bauer in Chytrý 2011. In: Chytrý M. (ed.), Vegetace České republiky. 3. Vodní a mokřadní vegetace [Vegetation of the Czech Republic 3. Aquatic and wetland vegetation]. Academia, Praha, pp. 296-299.