Vegetation of the Czech Republic
Association VDC02
Sphagno-Utricularietum ochroleucae Oberdorfer ex MŘller et G÷rs 1960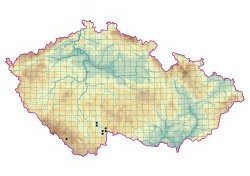 Photo on botanickafotogalerie.cz
This vegetation type is dominated by Utricularia intermedia and U. ochroleuca with a significant moss layer, which includes Drepanocladus spp. and Sphagnum spp. Its natural habitat is shallow, intermittently flooded bog pools and hollows with oligotrophic to dystrophic non-calcareous water, but it can also occur in abandoned peat extraction hollows and littoral zones of mesotrophic to oligotrophic fishponds. It occurs mainly in the T°ebo˛ Basin, but it has also been found rarely in other cool and precipitation-rich areas in western Bohemia.
Orig. (MŘller & G÷rs 1960): Sphagno-Utricularietum ochroleuci (Schumacher 37) Oberd. 57 (Sphagnum cuspidatum. S. recurvum f. fallax = S. fallax)
Syn.: Utricularia ochroleuca-Schlenke Schumacher 1937 (ž 3c), Sphagno-Utricularietum ochroleucae Oberdorfer 1957 prov. (ž 3b), Utriculario-Sphagnetum Fija│kowski 1960 prov. (ž 3b), Utricularietum ochroleucae Pietsch 2000
Diagnostic species: Carex lasiocarpa. C. rostrata. Drosera intermedia. Eriophorum angustifolium. Juncus bulbosus. Lysimachia thyrsiflora. Rhynchospora alba. Utricularia intermedia, U. ochroleuca; Sphagnum denticulatum. Straminergon stramineum
Constant species: Agrostis canina. Carex rostrata. Eriophorum angustifolium. Molinia caerulea s. l. (M. caerulea s. str.), Utricularia ochroleuca
Dominant species: Carex chordorrhiza. C. lasiocarpa. Eriophorum angustifolium, Juncus bulbosus, Lemna minor. Menyanthes trifoliata. Utricularia intermedia, U. ochroleuca; Sphagnum affine, S. denticulatum
Formal definition: (Utricularia intermedia cover > 5 % OR Utricularia ochroleuca cover > 5 %) NOT Group Utricularia minor NOT Nymphaea candida cover > 25 % NOT Rhynchospora alba cover > 5 %
Source: Navrßtilovß J. (2011): VDC02 Sphagno-Utricularietum ochroleucae Oberdorfer ex MŘller et G÷rs 1960. In: Chytrř M. (ed.), Vegetace ╚eskÚ republiky. 3. VodnÝ a mok°adnÝ vegetace [Vegetation of the Czech Republic 3. Aquatic and wetland vegetation]. Academia, Praha, pp. 302-305.