Vegetation of the Czech Republic
Association XAB02
Herniarietum glabrae (Hohenester 1960) Hejný et Jehlík 1975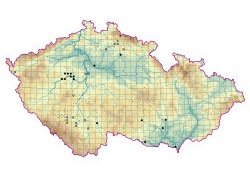 Photo on botanickafotogalerie.cz
These open and low-growing stands dominated by Herniaria glabra occur on well drained gravelly or sandy soils with low content of bases and nutrients. They are typical of trampled sites at railway stations and on margins of sandy roads, but they may also develop on natural sand accumulations in river floodplains. In the Czech Republic this association is distributed in moderately cool and humid regions of colline to submontane areas.
Orig. (Hejný & Jehlík 1975): Herniarietum glabrae (Hohenester 1960) Hejný et Jehlík 1975
Syn.: Lolio-Plantaginetum majoris herniarietosum glabrae Hohenester 1960, Rumici acetosellae-Spergularietum rubrae auct. non Hülbusch 1973 (pseudonym)
Diagnostic species: Herniaria glabra, Potentilla argentea. Spergularia rubra
Constant species: Conyza canadensis, Herniaria glabra, Plantago major. Poa annua. Polygonum aviculare agg. (predominantly P. arenastrum), Potentilla argentea. Trifolium repens
Dominant species: Herniaria glabra
Formal definition: Herniaria glabra cover > 5 %
Source: Láníková D. (2009): XAB02 Herniarietum glabrae (Hohenester 1960) Hejný et Jehlík 1975. In: Chytrý M. (ed.), Vegetace České republiky. 2. Ruderální, plevelová, skalní a su»ová vegetace [Vegetation of the Czech Republic 2. Ruderal, weed, rock and scree vegetation]. Academia, Praha, pp. 63-65.