Vegetation of the Czech Republic
Association XAB03
Rumici acetosellae-Spergularietum rubrae Hülbusch 1973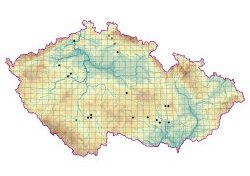 Photo on botanickafotogalerie.cz
This vegetation type, dominated by Spergularia rubra, occurs along forest roads, on sidewalks, playgrounds, roadsides and around railway stations. Soils are sandy to rocky, poor in bases and humus; in comparison with the Herniarietum glabrae they usually contain coarser particles. They can dry out considerably during the summer drought periods. The vegetation has its phenological optimum in mid-summer and early autumn. It occurs in colline to submontane areas of the Bohemian Massif.
Orig. (Hülbusch 1973): Rumici-Spergularietum .Rumex acetosella. Spergularia rubra)
Diagnostic species: Spergularia rubra; Bryum argenteum. B. caespiticium s. l.
Constant species: Matricaria discoidea. Poa annua. Polygonum aviculare agg. (predominantly P. arenastrum), Spergularia rubra, Taraxacum sect. Ruderalia; Bryum argenteum
Dominant species: Spergularia rubra
Formal definition: Spergularia rubra cover > 5 % NOT Group Gypsophila muralis NOT Group Eleocharis ovata NOT Group Ranunculus sceleratus NOT Group Spergula arvensis NOT Aira praecox cover > 5 % NOT Eleocharis acicularis cover > 5 % NOT Herniaria glabra cover > 5 % NOT Herniaria hirsuta cover > 5 % NOT Tripleurospermum inodorum cover > 5 % NOT Vulpia myuros cover > 5 %
Source: Láníková D. (2009): XAB03 Rumici acetosellae-Spergularietum rubrae Hülbusch 1973. In: Chytrý M. (ed.), Vegetace České republiky. 2. Ruderální, plevelová, skalní a su»ová vegetace [Vegetation of the Czech Republic 2. Ruderal, weed, rock and scree vegetation]. Academia, Praha, pp. 65-67.