Vegetation of the Czech Republic
Association XBA04
Stachyo annuae-Setarietum pumilae Felföldy 1942 corr. Mucina in Mucina et al. 1993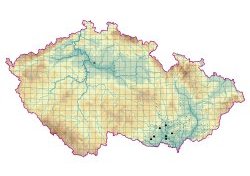 Photo on botanickafotogalerie.cz
This species-rich association occurs in warm areas on base-rich soils. It includes several thermophilous annual weed species which germinate only in late spring. Its phenological optimum is in August and September when it develops on stubbles, recently abandoned fields, in vineyards and root-crop fields. Several rare and endangered annual weed species occur in this vegetation type. This association of Pannonian and Balkan distribution reaches its north-western range limit in the Czech Republic.
Orig. (Felföldy 1942): Setaria glauca-Stachys annua-ass.
Diagnostic species: Achillea pannonica, Ajuga chamaepitys, Anagallis arvensis, A. foemina, Bromus japonicus. Caucalis platycarpos. Consolida regalis. Euphorbia exigua. E. falcata. Nonea pulla. Reseda lutea. Setaria viridis, Stachys annua, Veronica polita. Viola arvensis
Constant species: Ajuga chamaepitys, Anagallis arvensis, A. foemina, Arenaria serpyllifolia agg. (predominantly A. serpyllifolia s. str.), Artemisia vulgaris. Chenopodium album agg., Consolida regalis. Convolvulus arvensis. Elytrigia repens. Euphorbia exigua. Fallopia convolvulus. Medicago lupulina. Polygonum aviculare agg. (predominantly P. aviculare s. str.), Setaria viridis. Sonchus oleraceus, Stachys annua, Taraxacum sect. Ruderalia. Tripleurospermum inodorum. Veronica polita. Viola arvensis; Bryum argenteum. Pohlia nutans
Dominant species: Sinapis arvensis. Veronica polita
Formal definition: Group Stachys annua NOT Group Adonis aestivalis NOT Group Caucalis platycarpos NOT Group Consolida regalis NOT Group Spergula arvensis
Source: Lososová Z. (2009): XBA04 Stachyo annuae-Setarietum pumilae Felföldy 1942 corr. Mucina in Mucina et al. 1993. In: Chytrý M. (ed.), Vegetace České republiky. 2. Ruderální, plevelová, skalní a su»ová vegetace [Vegetation of the Czech Republic 2. Ruderal, weed, rock and scree vegetation]. Academia, Praha, pp. 91-93.