Vegetation of the Czech Republic
Association XBB02
Veronico-Lamietum hybridi Kruseman et Vlieger 1939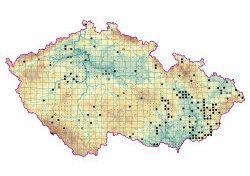 Photo on botanickafotogalerie.cz
This association occurs both in warm and cool areas of the Czech Republic in root-crop fields, kitchen gardens or oil-seed rape cultures. It also occurs in cereal fields, especially at higher altitudes or where they are more frequently sprayed with herbicide. On some sites, particularly at lower altitudes, this community developed from other weed communities due to agricultural intensification. Soils are heavy, loamy or clayey, and base-rich. This association may develop already in spring, but its phenological optimum is in late summer.
Orig. (Kruseman & Vlieger 1939): Veroniceto-Lamietum hybridi, Veronica agrestis, V. hederifolia, V. opaca, V. polita, V. tournefortii = V. persica)
Syn.: Soncho-Veronicetum agrestis Br.-Bl. 1948, Lamio-Veronicetum politae Korna¶ 1950, Soncho-Veronicetum agrestis Br.-Bl. 1970, Euphorbio helioscopiae-Veronicetum persicae Passarge in Passarge et Jurko 1975, Euphorbio-Galinsogetum ciliatae Passarge 1981, Galeopsio-Galinsogetum Poldini et al. 1998
Diagnostic species: Anagallis arvensis. Euphorbia helioscopia. Lamium purpureum. Sonchus arvensis. Sonchus asper. Veronica persica
Constant species: Anagallis arvensis. Capsella bursa-pastoris. Chenopodium album agg., Cirsium arvense. Convolvulus arvensis. Elytrigia repens, Euphorbia helioscopia, Fallopia convolvulus. Galium aparine. Lamium purpureum. Polygonum aviculare agg. (predominantly P. aviculare s. str.), Sonchus arvensis. S. asper. Stellaria media agg. (predominantly S. media s. str.), Taraxacum sect. Ruderalia. Thlaspi arvense. Tripleurospermum inodorum. Veronica persica. Viola arvensis
Dominant species: –
Formal definition: Group Sonchus arvensis NOT Group Amaranthus retroflexus NOT Group Aphanes arvensis NOT Group Chenopodium polyspermum NOT Group Consolida regalis NOT Group Spergula arvensis NOT Group Veronica triphyllos
Source: Otýpková Z. (2009): XBB02 Veronico-Lamietum hybridi Kruseman et Vlieger 1939. In: Chytrý M. (ed.), Vegetace České republiky. 2. Ruderální, plevelová, skalní a su»ová vegetace [Vegetation of the Czech Republic 2. Ruderal, weed, rock and scree vegetation]. Academia, Praha, pp. 105-108.