Vegetation of the Czech Republic
Association XBC01
Aphano arvensis-Matricarietum chamomillae Tüxen 1937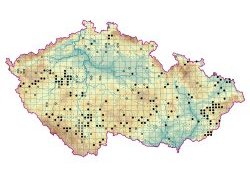 Photo on botanickafotogalerie.cz
This association includes weed vegetation of winter and summer cereal fields, but it may also occur in root-crop fields on some sites. It is found on sandy-loamy to loamy, acidic soils at middle altitudes. It attains its phenological optimum in summer.
Nomen mutatum propositum
Orig. (Tüxen 1937): Alchemilla arvensis-Matricaria chamomilla-Ass. Tx. 1937 (Alchemilla arvensis = Aphanes arvensis. Matricaria chamomilla = M. recutita)
Syn.: Vicietum tetraspermae Kruseman et Vlieger 1939, Galeopsio-Matricarietum Oberdorfer 1957 p. p., Aethuso-Galeopsietum G. Müller 1964 p. p., Myosotido-Sonchetum arvensis Passarge in Passarge et Jurko 1975
Diagnostic species: Anagallis arvensis. Anthemis arvensis, Apera spica-venti, Aphanes arvensis, Centaurea cyanus, Fallopia convolvulus. Matricaria recutita. Myosotis arvensis. Scleranthus annuus. Veronica arvensis. Vicia angustifolia. V. hirsuta. Viola arvensis
Constant species: Anagallis arvensis. Apera spica-venti. Aphanes arvensis. Capsella bursa-pastoris. Centaurea cyanus. Chenopodium album agg., Cirsium arvense. Elytrigia repens. Fallopia convolvulus. Galeopsis tetrahit s. l., Galium aparine. Lapsana communis, Myosotis arvensis, Poa annua. Polygonum aviculare agg. (predominantly P. aviculare s. str.), Scleranthus annuus. Stellaria media agg. (predominantly S. media s. str.), Taraxacum sect. Ruderalia. Thlaspi arvense. Tripleurospermum inodorum. Veronica arvensis. V. persica. Vicia angustifolia. V. hirsuta. V. tetrasperma, Viola arvensis
Dominant species: Apera spica-venti. Tripleurospermum inodorum
Formal definition: Group Aphanes arvensis NOT Group Arabidopsis thaliana NOT Group Arnoseris minima NOT Group Consolida regalis NOT Spergula arvensis cover > 15 %
Source: Otýpková Z. (2009): XBC01 Aphano arvensis-Matricarietum chamomillae Tüxen 1937. In: Chytrý M. (ed.), Vegetace České republiky. 2. Ruderální, plevelová, skalní a su»ová vegetace [Vegetation of the Czech Republic 2. Ruderal, weed, rock and scree vegetation]. Academia, Praha, pp. 109-112.