Vegetation of the Czech Republic
Association XBG03
Atriplicetum nitentis Slavnić 1951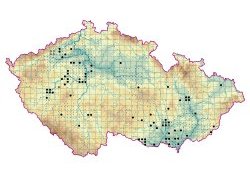 Photo on botanickafotogalerie.cz
This species-poor community is dominated by the annual herb Atriplex sagittata, which can form stands up to 2 m tall. It develops on bare soils exposed due to construction, in settlements, around farms and on road embankments. It can occur in places with increased content of chloride salts. Atriplex sagittata germinates in early spring and its stands are vital until autumn. Along with the association Chenopodietum stricti, it is the most common vegetation type of initial stages of secondary succession in and around human settlements in the Czech Republic. It is most common in warm lowlands, but it also occurs in moderately cool areas.
Orig. (Slavnić 1951): Ass. Atriplicetum nitentis ass. nova (Atriplex nitens = A. sagittata)
Syn.: Atriplicetum nitentis Knapp 1945 ms. (§ 1), Atriplicetum nitentis Knapp 1945 (§ 2b, nomen nudum), Sisymbrio-Atriplicetum nitentis (Knapp 1945) Oberdorfer 1957, Sisymbrio-Atriplicetum nitentis Oberdorfer ex Mahn et Schubert 1962
Diagnostic species: Atriplex sagittata, Lactuca serriola
Constant species: Artemisia vulgaris, Atriplex sagittata, Chenopodium album agg., Elytrigia repens. Lactuca serriola. Tripleurospermum inodorum
Dominant species: Atriplex sagittata
Formal definition: Atriplex sagittata cover > 25 % NOT Chenopodium album agg. cover > 25 %
Source: Lososová Z. (2009): XBG03 Atriplicetum nitentis Slavnić 1951. In: Chytrý M. (ed.), Vegetace České republiky. 2. Ruderální, plevelová, skalní a su»ová vegetace [Vegetation of the Czech Republic 2. Ruderal, weed, rock and scree vegetation]. Academia, Praha, pp. 135-137.