Vegetation of the Czech Republic
Association XBG05
Cynodonto dactyli-Atriplicetum tataricae Morariu 1943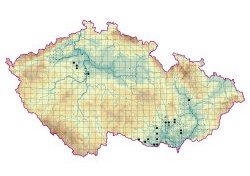 Photo on botanickafotogalerie.cz
This is a species-poor community dominated by Atriplex tatarica, developing on loamy, sandy or skeletal soils. It occurs at railway stations, in industrial areas, on old building rubble, at refuse dumps and along roads.
Nomen inversum propositum
Orig. (Morariu 1943): As. de Atriplex tatarica-Cynodon dactylon
Syn.: Atriplicetum tataricae Ubrizsy 1949, Hordeo murini-Atriplicetum tataricae (Felföldy 1942) Tüxen 1950 p. p.
Diagnostic species: Atriplex tatarica
Constant species: Artemisia vulgaris, Atriplex tatarica, Chenopodium album agg., Polygonum aviculare agg., Tripleurospermum inodorum
Dominant species: Atriplex tatarica
Formal definition: Atriplex tatarica cover > 25 %
Source: Lososová Z. (2009): XBG05 Cynodonto dactyli-Atriplicetum tataricae Morariu 1943. In: Chytrý M. (ed.), Vegetace České republiky. 2. Ruderální, plevelová, skalní a su»ová vegetace [Vegetation of the Czech Republic 2. Ruderal, weed, rock and scree vegetation]. Academia, Praha, pp. 143-145.