Vegetation of the Czech Republic
Association XBG07
Sisymbrietum loeselii Gutte 1972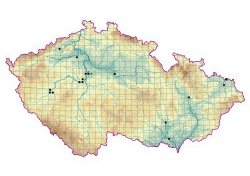 Photo on botanickafotogalerie.cz
This community is dominated by Sisymbrium loeselii. It colonizes bare substrata such as soil heaps around construction sites and strip mines, ballast deposits and places around railway stations. Soils are sandy to loamy and rich in nutrients. The Sisymbrietum loeselii is similar to the Descurainietum sophiae, but the latter is less thermophilous. Stands of the Sisymbrietum loeselii attain their maximum biomass from July to October. They are found in warm areas of the Czech Republic, particularly in the city suburbs.
Orig. (Gutte 1972): Sisymbietum loeselii Gutte 69, syn. Descurainietum (Sisymbrietum) sophiae Kreh 1935
Syn: Descurainietum sophiae Kreh 1935 (fantom), Sisymbrietum sophiae Kreh 1935 (fantom), Lactuco serriolae-Sisymbrietum loeselii Hadač et Rambousková in Hadač et al. 1983, Elymo repentis-Sisymbrietum loeselii Mucina in Mucina et al. 1993
Diagnostic species: Atriplex sagittata. Cardaria draba. Carduus acanthoides. Conyza canadensis. Hordeum murinum. Lactuca serriola. Sisymbrium altissimum, S. loeselii
Constant species: Artemisia vulgaris. Carduus acanthoides. Chenopodium album agg., Cirsium arvense. Conyza canadensis. Elytrigia repens. Lactuca serriola, Sisymbrium loeselii, Tripleurospermum inodorum
Dominant species: Elytrigia repens. Galium aparine, Sisymbrium loeselii, Tripleurospermum inodorum
Formal definition: Sisymbrium loeselii cover > 25 % NOT Sisymbrium altissimum cover > 25 %
Source: Lososová Z. (2009): XBG07 Sisymbrietum loeselii Gutte 1972. In: Chytrý M. (ed.), Vegetace České republiky. 2. Ruderální, plevelová, skalní a su»ová vegetace [Vegetation of the Czech Republic 2. Ruderal, weed, rock and scree vegetation]. Academia, Praha, pp. 147-149.