Vegetation of the Czech Republic
Association XBG08
Descurainietum sophiae Passarge 1959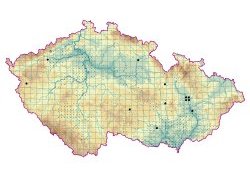 Photo on botanickafotogalerie.cz
This association is formed of stands of Descurainia sophia, accompanied by other tall annuals. It occurs in warm and sunny places on rubble of demolished buildings, rubbish heaps or tops of old walls. It is a vernal community that can be found until June. On certain sites it usually lasts for no more than two seasons, then giving way to perennial ruderal vegetation. In the Czech Republic it occurs mainly in colline areas.
Nomen mutatum propositum
Orig. (Passarge 1959): Sisymbrietum sophiae (Sisymbrium sophia = Descurainia sophia)
Syn: Sisymbrietum sophiae Oberdorfer 1957 (§ 2b, nomen nudum), Chenopodio-Sisymbrietum sophiae Passarge 1964, Lepidio-Sisymbrietum sophiae Passarge 1964, Capsello-Descurainietum sophiae Mucina in Mucina et al. 1993
Diagnostic species: Atriplex sagittata. Chenopodium ficifolium, Descurainia sophia, Lactuca serriola. Lepidium ruderale. Senecio vulgaris. Sisymbrium loeselii. Urtica urens
Constant species: Artemisia vulgaris. Atriplex sagittata. Capsella bursa-pastoris. Chenopodium album agg., C. ficifolium, Descurainia sophia, Elytrigia repens. Lactuca serriola. Lolium perenne. Tripleurospermum inodorum; Bryum argenteum
Dominant species: Atriplex prostrata subsp. latifolia, Descurainia sophia, Urtica dioica
Formal definition: Descurainia sophia cover > 25 % NOT Group Consolida regalis NOT Group Veronica triphyllos NOT Chenopodium urbicum cover > 5 %
Source: Lososová Z. (2009): XBG08 Descurainietum sophiae Passarge 1959. In: Chytrý M. (ed.), Vegetace České republiky. 2. Ruderální, plevelová, skalní a su»ová vegetace [Vegetation of the Czech Republic 2. Ruderal, weed, rock and scree vegetation]. Academia, Praha, pp. 149-151.