Vegetation of the Czech Republic
Association XBG13
Kochietum densiflorae Gutte et Klotz 1985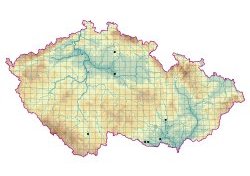 Photo on botanickafotogalerie.cz
This vegetation type is dominated by Kochia scoparia, a neophyte originating from Asian and south-eastern European steppes. It grows in sunny and dry places on gravel and sand heaps, waste dumps or along railway tracks. Kochia scoparia germinates late in the season and its stands are best developed at the end of summer and in autumn. Its stands occur scattered in warm and moderately warm areas of the Czech Republic.
Orig. (Gutte & Klotz 1985): Kochietum densiflorae ass. nov. (Kochia densiflora = K. scoparia subsp. densiflora)
Syn.: Amarantho-Kochietum.densiflorae (Brandes 1991) Passarge 1996
Diagnostic species: Amaranthus albus. A. retroflexus. Atriplex oblongifolia. A. sagittata. Chenopodium album agg., Crepis capillaris, Diplotaxis tenuifolia. Erysimum durum s. l., Kochia scoparia, Sisymbrium altissimum
Constant species: Amaranthus retroflexus. Artemisia vulgaris. Chenopodium album agg., Kochia scoparia, Polygonum aviculare agg. (predominantly P. aviculare s. str.), Sisymbrium altissimum. Tripleurospermum inodorum
Dominant species: Kochia scoparia
Formal definition: Kochia scoparia cover > 25 %
Source: Lososová Z. (2009): XBG13 Kochietum densiflorae Gutte et Klotz 1985. In: Chytrý M. (ed.), Vegetace České republiky. 2. Ruderální, plevelová, skalní a su»ová vegetace [Vegetation of the Czech Republic 2. Ruderal, weed, rock and scree vegetation]. Academia, Praha, pp. 161-163.