Vegetation of the Czech Republic
Association XBH01
Hordeetum murini Libbert 1932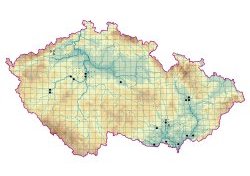 Photo on botanickafotogalerie.cz
This community is dominated by Hordeum murinum, a winter-annual grass. It develops in May and June in cities, villages and along roads in agricultural landscapes. Habitats include dry and sunny margins of roads, disturbed lawns and vegetated strips at the footings of walls or fences. It occurs in lowland and colline landscapes across the Czech Republic.
Orig. (Libbert 1932): Hordeum murinum-Assoziation
Syn.: Hordeetum murini Allorge 1922 (§ 2b, nomen nudum), Hordeetum murini Felföldy 1942, Hordeo murini-Atriplicetum tataricae (Felföldy 1942) Tüxen 1950 p. p., Hordeo murini-Brometum sterilis Lohmeyer ex von Rochow 1951 p. p.
Diagnostic species: Bromus sterilis, Hordeum murinum, Lepidium ruderale. Sisymbrium loeselii
Constant species: Artemisia vulgaris. Bromus sterilis. Capsella bursa-pastoris. Chenopodium album agg., Hordeum murinum, Lolium perenne. Polygonum aviculare agg. (predominantly P. aviculare s. str.), Taraxacum sect. Ruderalia
Dominant species: Bromus sterilis, Hordeum murinum
Formal definition: (Hordeum murinum cover > 50 % NOT Bromus sterilis cover > 25 %) OR (Hordeum murinum cover > 25 % AND Group Bromus tectorum)
Source: Lososová Z. (2009): XBH01 Hordeetum murini Libbert 1932. In: Chytrý M. (ed.), Vegetace České republiky. 2. Ruderální, plevelová, skalní a su»ová vegetace [Vegetation of the Czech Republic 2. Ruderal, weed, rock and scree vegetation]. Academia, Praha, pp. 164-166.