Vegetation of the Czech Republic
Association XBH02
Hordeo murini-Brometum sterilis Lohmeyer ex von Rochow 1951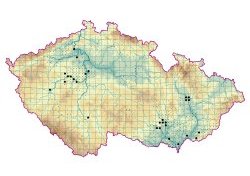 Photo on botanickafotogalerie.cz
This vernal vegetation type is dominated by Bromus sterilis, a winter-annual grass occurring until June. It is a slightly thermophilous association found in sunny to partially shaded places along roads, fences and walls in both cities and villages. It also develops in open agricultural landscapes. Soils are well drained and sandy to loamy-sandy. In the Czech Republic this vegetation type is common in warm lowland and colline areas.
Orig. (von Rochow 1951): Hordeum murinum-Bromus sterilis-Ass. (Allorge 1922) Lohmeyer 1950
Syn.: Hordeo murini-Brometum sterilis Lohmeyer in Tüxen 1950 p. p. (§ 2b, nomen nudum), Brometum sterilis Görs 1966 prov., Capsello-Brometum sterilis Passarge 1996
Diagnostic species: Bromus hordeaceus, B. sterilis, Hordeum murinum. Sisymbrium officinale
Constant species: Bromus sterilis, Capsella bursa-pastoris. Hordeum murinum. Taraxacum sect. Ruderalia
Dominant species: Ballota nigra, Bromus sterilis
Formal definition: Bromus sterilis cover > 25 % NOT Hordeum murinum cover > 50 % NOT Robinia pseudacacia cover > 25 %
Source: Lososová Z. (2009): XBH02 Hordeo murini-Brometum sterilis Lohmeyer ex von Rochow 1951. In: Chytrý M. (ed.), Vegetace České republiky. 2. Ruderální, plevelová, skalní a su»ová vegetace [Vegetation of the Czech Republic 2. Ruderal, weed, rock and scree vegetation]. Academia, Praha, pp. 166-168.