Vegetation of the Czech Republic
Association XBH03
Linario-Brometum tectorum Knapp 1961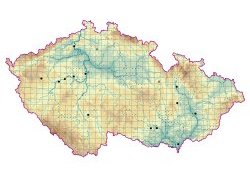 Photo on botanickafotogalerie.cz
This vegetation type is dominated by Bromus tectorum, a winter annual grass. It develops on warm, sunny sites with dry, sandy or gravelly soils. It is common along railway tracks, on roadsides and on tops of old walls and ruins in both cities and villages. The phenological optimum of this vegetation type is between May and early June, and later on the dominant species disappears. In the Czech Republic this association is common in warm lowland and colline areas.
Orig. (Knapp 1961): Linario-Brometum tectori .Linaria minor = Microrrhinum minus. L. vulgaris)
Syn.: Bromo-Erigerontetum canadensis (Knapp 1961) Gutte 1972
Diagnostic species: Bromus tectorum, Lappula squarrosa
Constant species: Bromus tectorum
Dominant species: Arabidopsis thaliana, Bromus tectorum, Elytrigia repens. Medicago lupulina
Formal definition: Bromus tectorum cover > 25 % NOT Corynephorus canescens cover > 25 %
Source: Lososová Z. (2009): XBH03 Linario-Brometum tectorum Knapp 1961. In: Chytrý M. (ed.), Vegetace České republiky. 2. Ruderální, plevelová, skalní a su»ová vegetace [Vegetation of the Czech Republic 2. Ruderal, weed, rock and scree vegetation]. Academia, Praha, pp. 168-170.