Vegetation of the Czech Republic
Association XBI02
Malvetum pusillae Morariu 1943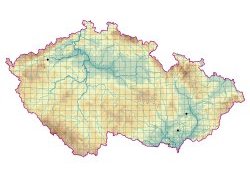 Photo on botanickafotogalerie.cz
This community is dominated by Malva pusilla, a low-growing prostrate annual herb, and is found in villages and farms, mainly in places disturbed by domestic fowl. Its physiognomy and ecology is similar to the previous association, but it is slightly more thermophilous and does not occur at the edges of cities. It is rare, occuring only in the warmest areas of the Czech Republic. It is rapidly declining with the urbanization of villages.
Orig. (Morariu 1943): Malvaetum pusillae
Diagnostic species: Anthemis cotula, Chenopodium murale, Malva pusilla
Constant species: Anthemis cotula. Capsella bursa-pastoris. Descurainia sophia. Lolium perenne, Malva pusilla, Matricaria discoidea. Poa annua. Polygonum aviculare agg., Tripleurospermum inodorum. Urtica dioica. Viola arvensis
Dominant species: Anthemis cotula, Malva pusilla, Polygonum aviculare agg.
Formal definition: Malva pusilla cover > 5 % NOT Group Consolida regalis
Source: Lososová Z. (2009): XBI02 Malvetum pusillae Morariu 1943. In: Chytrý M. (ed.), Vegetace České republiky. 2. Ruderální, plevelová, skalní a su»ová vegetace [Vegetation of the Czech Republic 2. Ruderal, weed, rock and scree vegetation]. Academia, Praha, pp. 178-180.