Vegetation of the Czech Republic
Association XBJ03
Plantagini arenariae-Senecionetum viscosi Eliáš 1986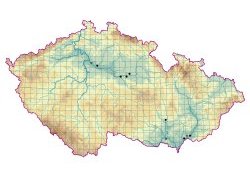 Photo on botanickafotogalerie.cz
This is open vegetation formed of various annuals, in particular the neophytic Plantago arenaria, which are adapted to acidic, sandy or gravelly soils. It occurs in disturbed places with recent nutrient addition or humus accumulation, e.g. in sand pits, on playgrounds, along railway tracks and in waste places. In the Czech Republic this vegetation type has been recorded in sandy areas along the Labe river as well as in southern Moravia and along railways in Brno.
Nomen mutatum propositum
Orig. (Eliáš 1986a): Plantagini indicae-Senecietum viscosi Eliáš 1983 (Plantago indica = P. arenaria)
Syn.: Brometum tectorum Bojko 1934 (§ 36, nomen ambiguum), Plantago indica-Corispermum elongatum-Gesellschaft Passarge 1957 (§ 3c), Plantaginetum indicae Philippi 1971 prov. (§ 3b), Plantagini indicae-Senecionetum viscosi Eliáš 1983 (fantom), Setario-Plantaginetum indicae Passarge 1988
Diagnostic species: Androsace septentrionalis, Anthemis ruthenica, Bromus tectorum, Cerastium pumilum s. l., Corynephorus canescens, Filago minima, Lepidium densiflorum, Oenothera biennis s. l., Plantago arenaria, Setaria viridis. Sisymbrium altissimum. Trifolium arvense
Constant species: Bromus tectorum. Corynephorus canescens, Plantago arenaria
Dominant species: Corynephorus canescens, Lepidium densiflorum, Plantago arenaria, Trifolium arvense; Ceratodon purpureus
Formal definition: Group Plantago arenaria OR Plantago arenaria cover > 5 %
Source: Sádlo J. (2009): XBJ03 Plantagini arenariae-Senecionetum viscosi Eliáš 1986. In: Chytrý M. (ed.), Vegetace České republiky. 2. Ruderální, plevelová, skalní a suťová vegetace [Vegetation of the Czech Republic 2. Ruderal, weed, rock and scree vegetation]. Academia, Praha, pp. 192-194.