Vegetation of the Czech Republic
Association XBK02
Portulacetum oleraceae Felföldy 1942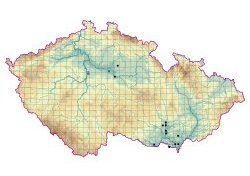 Photo on botanickafotogalerie.cz
This vegetation type is dominated by Portulaca oleracea and consists of low-growing, often prostrate herbs. It occurs in vineyards, city flower beds, at the foots of ornamental trees in cities, along roads, sidewalks and between railway or tram tracks. Soils are well drained, usually with sand or gravel admixture. Phenological optimum of this vegetation type is in warm and dry periods of late summer. It occurs in warm lowland areas of the Czech Republic.
Orig. (Felföldy 1942): Portulaca oleracea-ass.
Syn.: Digitario-Portulacetum Bodrogközi in Tímár et Bodrogközi 1959, Polygono-Portulacetum oleraceae Eliáą 1986
Diagnostic species: Digitaria sanguinalis. Eragrostis minor, Portulaca oleracea
Constant species: Polygonum aviculare agg., Portulaca oleracea, Taraxacum sect. Ruderalia
Dominant species: Eragrostis pilosa, Polygonum aviculare agg., Portulaca oleracea, Setaria viridis
Formal definition: Portulaca oleracea cover > 5 % NOT Group Amaranthus retroflexus
Source: Lososová Z. (2009): XBK02 Portulacetum oleraceae Felföldy 1942. In: Chytrý M. (ed.), Vegetace České republiky. 2. Ruderální, plevelová, skalní a su»ová vegetace [Vegetation of the Czech Republic 2. Ruderal, weed, rock and scree vegetation]. Academia, Praha, pp. 198-200.