Vegetation of the Czech Republic
Association XBK04
Cynodontetum dactyli Gams 1927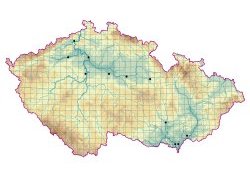 Photo on botanickafotogalerie.cz
This association is dominated by the low-growing, perennial grass Cynodon dactylon, which is able spreading extensively by means of its above-ground, creeping stolons. It is accompanied by a suite of annual species and trampled site specialists. It occurs in disturbed, sunny habitats on well drained sandy soils. It does well on exposed sandy sites, along roads and sidewalks in cities and villages, between railway tracks or in factory yards. It reaches maximum biomass in August and September. There are scattered occurrences of this association in warm areas of the Czech Republic.
Orig. (Gams 1927): Cynodontetum .Cynodon dactylon)
Syn.: Cynodontetum dactyli Felföldy 1942, Plantagini-Cynodontetum Brun-Hool 1962, Conyzo-Cynodontetum dactyli Eliáą 1979, Hordeo murini-Cynodontetum (Felföldy 1942) Borhidi 1996, Lolio-Cynodontetum dactyli Jarolímek et al. 1997
Diagnostic species: Amaranthus retroflexus. Conyza canadensis, Cynodon dactylon
Constant species: Amaranthus retroflexus. Artemisia vulgaris. Conyza canadensis, Cynodon dactylon
Dominant species: Cynodon dactylon
Formal definition: Cynodon dactylon cover > 25 % NOT Group Festuca vaginata
Source: Lososová Z. & Láníková D. (2009): XBK04 Cynodontetum dactyli Gams 1927. In: Chytrý M. (ed.), Vegetace České republiky. 2. Ruderální, plevelová, skalní a su»ová vegetace [Vegetation of the Czech Republic 2. Ruderal, weed, rock and scree vegetation]. Academia, Praha, pp. 202-205.