Vegetation of the Czech Republic
Association XCB06
Poëtum humili-compressae Bornkamm 1961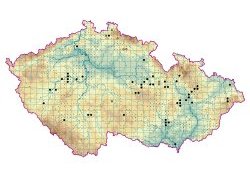 Photo on botanickafotogalerie.cz
This is a moderately thermophilous vegetation type with Poa compressa or P. palustris subsp. xerotica. It develops on sunny and dry sites with very shallow soil such as gravelly substrates between railway tracks and along roads, on tops of walls and in quarries. Sites with this vegetation type are scattered especially in colline to submontane areas of the Czech Republic.
Nomen mutatum propositum
Orig. (Bornkamm 1961): Poetum anceptis-compressae .Poa pratensis subsp. anceps = P. humilis)
Syn.: Poëtum pratensi-compressae Bornkamm 1974, Hieracio-Poëtum compressae Petit 1978, Plantagini majoris-Poëtum compressae Jehlík in Hejný et al. 1979, Sedo acri-Poëtum compressae Klimeš 1986
Diagnostic species: Poa compressa; Bryum argenteum. B. caespiticium s. l., Ceratodon purpureus
Constant species: Artemisia vulgaris, Poa compressa, Taraxacum sect. Ruderalia; Bryum argenteum. Ceratodon purpureus
Dominant species: Poa compressa, Poa palustris subsp. xerotica
Formal definition: Poa compressa cover > 25 % OR Poa palustris subsp. xerotica cover > 25 %
Source: Láníková D. (2009): XCB06 Poëtum humili-compressae Bornkamm 1961. In: Chytrý M. (ed.), Vegetace České republiky. 2. Ruderální, plevelová, skalní a suťová vegetace [Vegetation of the Czech Republic 2. Ruderal, weed, rock and scree vegetation]. Academia, Praha, pp. 241-245.