Vegetation of the Czech Republic
Association XCB08
Artemisio vulgaris-Echinopsietum sphaerocephali Eliáš 1979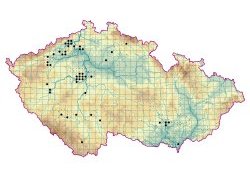 Photo on botanickafotogalerie.cz
This association includes tall stands dominated by the perennial invasive neophyte Echinops sphaerocephalus, accompanied by annual, biennial and other perennial species. It is found in sunny, dry and warm habitats such as roadsides and railway banks, dumping sites, abandoned quarries or abandoned fields. It occurs in warm lowland and colline areas of the Czech Republic.
Orig. (Eliáš 1979a): Artemisio-Echinopsetum sphaerocephali Eliáš asoc. nova
Diagnostic species: Bunias orientalis, Echinops sphaerocephalus, Silene latifolia subsp. alba
Constant species: Arrhenatherum elatius. Artemisia vulgaris. Cirsium arvense. Convolvulus arvensis. Dactylis glomerata, Echinops sphaerocephalus, Elytrigia repens. Galium aparine. Silene latifolia subsp. alba. Urtica dioica
Dominant species: Echinops sphaerocephalus, Elytrigia repens; Brachythecium rutabulum
Formal definition: Echinops sphaerocephalus cover > 25 %
Source: Láníková D. (2009): XCB08 Artemisio vulgaris-Echinopsietum sphaerocephali Eliáš 1979. In: Chytrý M. (ed.), Vegetace České republiky. 2. Ruderální, plevelová, skalní a suťová vegetace [Vegetation of the Czech Republic 2. Ruderal, weed, rock and scree vegetation]. Academia, Praha, pp. 248-251.