Vegetation of the Czech Republic
Association XCB11
Asclepiadetum syriacae Láníková in Chytrý 2009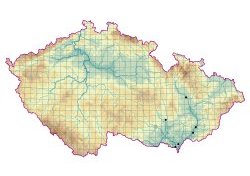 Photo on botanickafotogalerie.cz
This vegetation type is dominated by tall herb Asclepias syriaca, a neophyte of North American origin, which was planted as an ornamental or textile plant in the past. It now occurs along roads and railways, at the edges of vineyards, in disturbed places in human settlements and along river banks. Soils are often dry, ranging from loamy to stony. In the Czech Republic this vegetation occurs in warm lowland to colline areas; available phytosociological relevés are mainly from southern Moravia.
Diagnostic species: Asclepias syriaca, Ballota nigra. Carex hirta. Equisetum ramosissimum. Erigeron annuus agg., Falcaria vulgaris. Rubus caesius. Setaria pumila. Torilis japonica. Viola odorata
Constant species: Achillea millefolium agg. (predominantly A. collina), Arrhenatherum elatius. Artemisia vulgaris, Asclepias syriaca, Ballota nigra. Calamagrostis epigejos. Carex hirta. Elytrigia repens. Falcaria vulgaris. Galium mollugo agg. (predominantly G. album subsp. album), Rubus caesius. Urtica dioica
Dominant species: Artemisia vulgaris, Asclepias syriaca, Elytrigia repens. Equisetum ramosissimum. Rubus caesius
Formal definition: Asclepias syriaca cover > 25 %
Source: Láníková D. (2009): XCB11 Asclepiadetum syriacae Láníková in Chytrý 2009. In: Chytrý M. (ed.), Vegetace České republiky. 2. Ruderální, plevelová, skalní a su»ová vegetace [Vegetation of the Czech Republic 2. Ruderal, weed, rock and scree vegetation]. Academia, Praha, pp. 256-258.