Vegetation of the Czech Republic
Association XCC01
Convolvulo arvensis-Elytrigietum repentis Felföldy 1943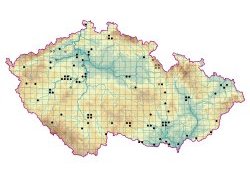 Photo on botanickafotogalerie.cz
This is a species-poor vegetation type dominated by Elytrigia repens, a perennial grass with an extensive network of rhizomes and the ability to form large polycorms. It occurs on field margins and in abandoned fields, roadsides, along fences, on disturbed river banks and in waste places. In most cases habitats are sunny, warm and dry. This association is common from lowland to submontane areas of the Czech Republic.
Orig. (Felföldy 1943): Agropyron repens-Convolvulus arvensis-ass. (Agropyron repens = Elytrigia repens)
Syn.: Agropyretum repentis Felföldy 1942 (§ 36, nomen ambiguum)
Diagnostic species: Elytrigia repens
Constant species: Artemisia vulgaris. Cirsium arvense, Elytrigia repens
Dominant species: Elytrigia repens, Urtica dioica
Formal definition: Elytrigia repens cover > 50 % NOT Cardaria draba cover > 25 % OR (Elytrigia repens cover > 5 % AND Falcaria vulgaris cover > 5 %)
Source: Láníková D. (2009): XCC01 Convolvulo arvensis-Elytrigietum repentis Felföldy 1943. In: Chytrý M. (ed.), Vegetace Èeské republiky. 2. Ruderální, plevelová, skalní a su»ová vegetace [Vegetation of the Czech Republic 2. Ruderal, weed, rock and scree vegetation]. Academia, Praha, pp. 259-262.