Vegetation of the Czech Republic
Association XCC02
Falcario vulgaris-Elytrigietum repentis Müller et Görs 1969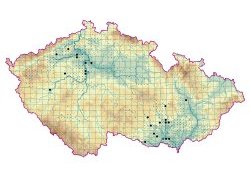 Photo on botanickafotogalerie.cz
This is thermophilous vegetation of dry habitats dominated by perennial grasses and broad-leaved herbs, most notably by the biennial to perennial Falcaria vulgaris. It occurs on disturbed sites between dirt roads and field margins in agricultural landscapes, on railway banks or in vineyards. Soils are loamy to clayey, often developed on loess and with a high calcium content. In the Czech Republic this community occurs in warm and dry lowland to colline areas.
Nomen mutatum propositum
Orig. (Müller et Görs 1969): Falcario (vulgaris)-Agropyretum repentis (Felf. 43) ass. nov. (Agropyron repens = Elytrigia repens)
Syn.: Agropyretum repentis Felföldy 1942 p. p. (§ 36, nomen ambiguum)
Diagnostic species: Convolvulus arvensis. Crepis setosa, Falcaria vulgaris
Constant species: Achillea millefolium agg. (predominantly A. collina), Arrhenatherum elatius. Artemisia vulgaris. Convolvulus arvensis. Dactylis glomerata, Elytrigia repens, Falcaria vulgaris, Poa pratensis s. l.
Dominant species: Arrhenatherum elatius, Elytrigia repens, Falcaria vulgaris
Formal definition: Falcaria vulgaris cover > 25 % OR (Elytrigia repens cover > 5 % AND Falcaria vulgaris cover > 5 %) NOT Festuca valesiaca cover > 25 % NOT Marrubium peregrinum cover > 25 %
Source: Láníková D. (2009): XCC02 Falcario vulgaris-Elytrigietum repentis Müller et Görs 1969. In: Chytrý M. (ed.), Vegetace České republiky. 2. Ruderální, plevelová, skalní a su»ová vegetace [Vegetation of the Czech Republic 2. Ruderal, weed, rock and scree vegetation]. Academia, Praha, pp. 262-265.