Vegetation of the Czech Republic
Association XCC04
Cardarietum drabae Tímár 1950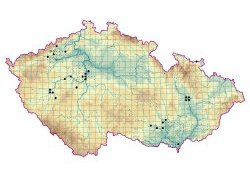 Photo on botanickafotogalerie.cz
This vernal community is dominated by Cardaria draba, a perennial herb forming dense polycorms. It occurs along railways and roads, in disturbed lawns in human settlements and industrial zones, orchards and vineyards, on field margins and in waste places. The stands are usually found on sunny sites with dry soils of intermediate nutrient status. After the period of maximum biomass and flowering in May and June, Cardaria draba polycorms die back. In the Czech Republic this vegetation type occurs in warm lowlands and colline landscapes.
Nomen mutatum propositum
Orig. (Tímár 1950): Lepidium draba assz. (Lepidium draba = Cardaria draba)
Syn.: Cardario drabae-Agropyretum repentis Müller et Görs 1969, Galio aparines-Cardarietum drabae Eliáš 1986
Diagnostic species: Cardaria draba
Constant species: Cardaria draba, Convolvulus arvensis. Elytrigia repens. Poa pratensis s. l.
Dominant species: Arrhenatherum elatius, Cardaria draba, Elytrigia repens, Poa pratensis s. l.
Formal definition: Cardaria draba cover > 25 %
Source: Láníková D. & Lososová Z. (2009): XCC04 Cardarietum drabae Tímár 1950. In: Chytrý M. (ed.), Vegetace České republiky. 2. Ruderální, plevelová, skalní a suťová vegetace [Vegetation of the Czech Republic 2. Ruderal, weed, rock and scree vegetation]. Academia, Praha, pp. 267-269.