Vegetation of the Czech Republic
Association XCE03
Hyoscyamo nigri-Conietum maculati Slavnić 1951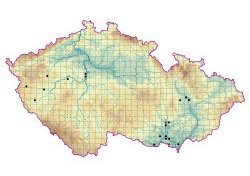 Photo on botanickafotogalerie.cz
This community is formed of stands of tall, broad-leaved herbs, dominated by Conium maculatum. It occurs in various ruderal habitats mainly in villages and their surroundings, e.g. around dung or compost heaps, at dumps, on old building rubble, at field margins and roadsides in agricultural landscapes. Currently it is on the decline in villages but increasing in open landscapes. Generally the habitats are sunny, warm and rich in nutrients. In the Czech Republic Hyoscyamo-Conietum occurs in warm lowland to colline areas.
Nomen inversum propositum
Orig. (Slavnić 1951): Ass. Conium-Hyoscyamus niger ass. nova (Conium maculatum)
Syn.: Lamio-Conietum Oberdorfer 1957, Conietum maculati Pop 1968
Diagnostic species: Ballota nigra, Conium maculatum, Lamium album
Constant species: Artemisia vulgaris. Ballota nigra, Conium maculatum, Convolvulus arvensis. Elytrigia repens. Galium aparine. Lamium album, Urtica dioica
Dominant species: Conium maculatum
Formal definition: Conium maculatum cover > 25 %
Source: Láníková D. (2009): XCE03 Hyoscyamo nigri-Conietum maculati Slavnić 1951. In: Chytrý M. (ed.), Vegetace České republiky. 2. Ruderální, plevelová, skalní a su»ová vegetace [Vegetation of the Czech Republic 2. Ruderal, weed, rock and scree vegetation]. Academia, Praha, pp. 283-285.