Vegetation of the Czech Republic
Association XDA04
Sicyo angulatae-Echinocystietum lobatae Fija³kowski ex Brzeg et Wojterska 2001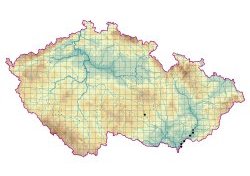 Photo on botanickafotogalerie.cz
This vegetation type is dominated by Echinocystis lobata, an annual herbaceous liana, which is accompanied by tall herbaceous, both annual and perennial, nutrient demanding species. Echinocystis lobata is a neophyte of North American origin. Its stands occur in regularly flooded habitats in large river floodplains, at the banks of rivers, oxbows, pools or ditches, and around fishponds. The spread of Echinocystis lobata in river corridors is supported by floods and probably also by river regulations. This vegetation type is documented by relevés mainly from the Morava river floodplain in southern Moravia, but it also occurs in some other low-altitude areas of the Czech Republic.
Orig. (Brzeg & Wojterska 2001): Sicyo-Echinocystietum lobatae Fija³kowski 1978 ex Brzeg et M. Wojterska 2001 (Sicyos angulata)
Syn.: Sicyo-Echinocystietum lobatae Fija³kowski 1978 prov. (§ 3b)
Diagnostic species: Aristolochia clematitis. Artemisia vulgaris. Aster novi-belgii s. l., Atriplex sagittata. Bidens frondosa. Bromus inermis, Calystegia sepium, Chaerophyllum bulbosum. Cuscuta europaea, Echinocystis lobata, Myosoton aquaticum. Persicaria mitis. Phalaris arundinacea. Saponaria officinalis. Solidago gigantea
Constant species: Artemisia vulgaris, Atriplex sagittata. Bidens frondosa, Calystegia sepium, Echinocystis lobata, Phalaris arundinacea, Urtica dioica
Dominant species: Artemisia vulgaris. Bromus inermis, Echinocystis lobata, Fallopia dumetorum. Galium aparine, Urtica dioica
Formal definition: Echinocystis lobata cover > 25 %
Source: ©umberová K. (2009): XDA04 Sicyo angulatae-Echinocystietum lobatae Fija³kowski ex Brzeg et Wojterska 2001. In: Chytrý M. (ed.), Vegetace Èeské republiky. 2. Ruderální, plevelová, skalní a su»ová vegetace [Vegetation of the Czech Republic 2. Ruderal, weed, rock and scree vegetation]. Academia, Praha, pp. 303-306.