Vegetation of the Czech Republic
Association XDB01
Petasitetum hybridi Imchenetzky 1926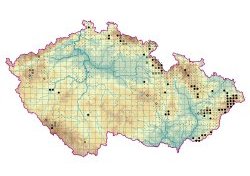 Photo on botanickafotogalerie.cz
This association includes dense stands of Petasites hybridus, a perennial herb with large leaves. It occurs on river banks and alluviual sediments, on some sites even on gravelly deposits in the middle parts of stream channels; in these habitats it is the natural herbaceous vegetation of flood-disturbed sites. However, Petasites hybridus stands also develop in wet road ditches or in abandoned meadows. Soils contain a high proportion of sand or gravel and are rich in nutrients. In the Czech Republic this vegetation type is common in submontane and montane areas.
Nomen mutatum propositum
Orig. (Imchenetzky 1926): Association des graviers fluviatiles à Petasites officinalis (Petasites officinalis = P. hybridus)
Syn.: Chaerophyllo hirsuti-Petasitetum hybridi Kaiser 1926 (§ 3d, association of Uppsala School), Petasito officinalis-Phalaridetum arundinaceae Schwickerath 1933, Petasito hybridi-Aegopodietum podagrariae Tüxen 1947, Petasitetum hybridi Oberdorfer 1949, Carduo personatae-Petasitetum hybridi Oberdorfer (1949) 1957, Geranio-Petasitetum hybridi Oberdorfer 1957, Cardamino amarae-Petasitetum hybridi Hilbig et al. 1972, Chrysosplenio-Petasitetum hybridi Hadač et Soldán 1989
Diagnostic species: Chaerophyllum aromaticum. C. hirsutum, Petasites hybridus
Constant species: Aegopodium podagraria. Chaerophyllum aromaticum. C. hirsutum. Cirsium oleraceum. Dactylis glomerata. Filipendula ulmaria. Heracleum sphondylium, Petasites hybridus, Poa trivialis. Stellaria nemorum. Urtica dioica
Dominant species: Aegopodium podagraria, Petasites hybridus, Urtica dioica
Formal definition: Petasites hybridus cover > 25 %
Source: Kočí M. (2009): XDB01 Petasitetum hybridi Imchenetzky 1926. In: Chytrý M. (ed.), Vegetace České republiky. 2. Ruderální, plevelová, skalní a su»ová vegetace [Vegetation of the Czech Republic 2. Ruderal, weed, rock and scree vegetation]. Academia, Praha, pp. 314-316.