Vegetation of the Czech Republic
Association XDB02
Petasitetum hybrido-kablikiani Sillinger 1933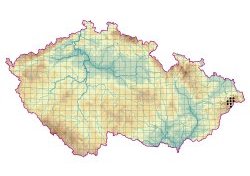 Photo on botanickafotogalerie.cz
This association contains herbaceous vegetation dominated by Petasites kablikianus, occurring on river banks, gravel deposits and along the edges of forest roads. Soils contain a high proportion of gravel and sand and are rich in nutrients. This vegetation type is typical of the Carpathians; in the Czech Republic it occurs in the Moravskoslezské Beskydy and Krkonoše Mountains.
Nomen mutatum propositum
Orig. (Sillinger 1933): Petasitetum officinalis-glabrati .Petasites officinalis = P. hybridus. P. glabratus = P. kablikianus)
Syn.: Petasitetum kablikiani Pawłowski et Walas 1949
Diagnostic species: Calamagrostis pseudophragmites. Chaerophyllum hirsutum, Petasites kablikianus, Stellaria nemorum
Constant species: Aegopodium podagraria. Alchemilla vulgaris s. l., Chaerophyllum hirsutum. Cirsium palustre. Dactylis glomerata. Filipendula ulmaria, Petasites kablikianus, Ranunculus repens. Rubus idaeus. Senecio nemorensis agg., Stellaria nemorum. Urtica dioica
Dominant species: Petasites kablikianus, Rubus idaeus, Senecio nemorensis agg.; Plagiomnium affine s. l.
Formal definition: Petasites kablikianus cover > 25 %
Source: Kočí M. (2009): XDB02 Petasitetum hybrido-kablikiani Sillinger 1933. In: Chytrý M. (ed.), Vegetace České republiky. 2. Ruderální, plevelová, skalní a suťová vegetace [Vegetation of the Czech Republic 2. Ruderal, weed, rock and scree vegetation]. Academia, Praha, pp. 317-319.