Vegetation of the Czech Republic
Association XDD02
Torilidetum japonicae Lohmeyer ex Görs et Müller 1969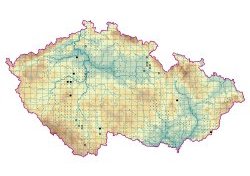 Photo on botanickafotogalerie.cz
This association is represented by stands dominated by Torilis japonica. It can be found in partially shaded habitats on roadsides, fishpond dams and the edges of clearings, scrub or forests, e.g. in the fringes of the black locust groves. Soils are moderately dry, in places rich in nutrients. In the Czech Republic Torilidetum japonicae occurs mainly in colline to submontane areas.
Orig. (Görs & Müller 1969): Torilidetum japonicae Lohm. 1967
Syn.: Torilidetum japonicae Lohmeyer in Oberdorfer et al. 1967 (§ 2b, nomen nudum)
Diagnostic species: Cirsium vulgare. Geum urbanum, Torilis japonica
Constant species: Arrhenatherum elatius. Artemisia vulgaris. Dactylis glomerata. Elytrigia repens. Galeopsis tetrahit s. l., Geum urbanum. Poa trivialis, Torilis japonica, Urtica dioica
Dominant species: Ballota nigra, Geum urbanum, Potentilla anserina, Torilis japonica, Urtica dioica
Formal definition: Torilis japonica cover > 25 %
Source: Láníková D. (2009): XDD02 Torilidetum japonicae Lohmeyer ex Görs et Müller 1969. In: Chytrý M. (ed.), Vegetace České republiky. 2. Ruderální, plevelová, skalní a su»ová vegetace [Vegetation of the Czech Republic 2. Ruderal, weed, rock and scree vegetation]. Academia, Praha, pp. 339-341.