Vegetation of the Czech Republic
Association XDE01
Elytrigio repentis-Aegopodietum podagrariae Tüxen 1967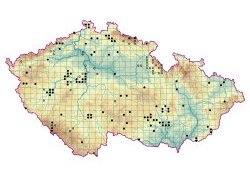 Photo on botanickafotogalerie.cz
This community is dominated by Aegopodium podagraria. It occurs in both natural and anthropogenic habitats which are occasionally disturbed, e.g. forest edges and scrub in river floodplains, disturbed banks of streams and fishponds, roadsides or unmanaged places in gardens, parks and cemeteries. Soils are mesic, loamy to loamy-sandy and rich in nutrients. Due to its ability to spread vegetatively through extensive rhizomes Aegopodium podagraria is able to persist for a long time on particular sites. Its stands are common across the whole of the Czech Republic, especially in colline to submontane areas.
Nomen mutatum propositum
Orig. (Tüxen 1967): Agropyro repentis-Aegopodietum.podagrariae .Agropyron repens = Elytrigia repens)
Syn.: Urtico dioicae-Aegopodietum podagrariae Tüxen 1963 (§ 2b, nomen nudum), Urtico-Aegopodietum podagrariae Oberdorfer 1964 (fantom), Urtico-Aegopodietum Tüxen ex Görs 1968
Diagnostic species: Aegopodium podagraria
Constant species: Aegopodium podagraria, Anthriscus sylvestris. Dactylis glomerata. Elytrigia repens. Heracleum sphondylium. Taraxacum sect. Ruderalia. Urtica dioica
Dominant species: Aegopodium podagraria, Urtica dioica
Formal definition: Aegopodium podagraria cover > 25 % NOT Anthriscus nitida cover > 25 % NOT Anthriscus sylvestris cover > 25 % NOT Chaerophyllum aromaticum cover > 25 % NOT Chaerophyllum aureum cover > 25 % NOT Petasites albus cover > 25 % NOT P. hybridus cover > 25 %
Source: Láníková D. (2009): XDE01 Elytrigio repentis-Aegopodietum podagrariae Tüxen 1967. In: Chytrý M. (ed.), Vegetace České republiky. 2. Ruderální, plevelová, skalní a su»ová vegetace [Vegetation of the Czech Republic 2. Ruderal, weed, rock and scree vegetation]. Academia, Praha, pp. 350-353.