Vegetation of the Czech Republic
Association XDE05
Chaerophylletum bulbosi Tüxen 1937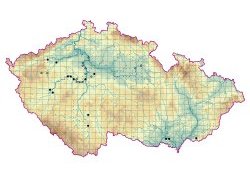 Photo on botanickafotogalerie.cz
This vegetation type is dominated by Chaerophyllum bulbosum, a tall, biennial to perennial herb. Its natural habitats are banks and floodplains of lowland streams, but it has also spread to ruderal habitats in cities and villages and their surroundings. It occurs on roadsides, in farm yards, in waste places and near compost piles. Soils are wet to intermittently wet and rich in nutrients. In the Czech Republic this association is found in warm areas, especially in the floodplains of lowland rivers.
Orig. (Tüxen 1937): Chaerophyllum bulbosum-Ass. Tx. 1937
Syn.: Conio-Chaerophylletum bulbosi Pop 1968
Diagnostic species: Carduus crispus, Chaerophyllum bulbosum, Cuscuta europaea
Constant species: Aegopodium podagraria. Anthriscus sylvestris. Arrhenatherum elatius. Artemisia vulgaris, Chaerophyllum bulbosum, Dactylis glomerata. Elytrigia repens, Galium aparine, Geum urbanum. Heracleum sphondylium. Poa trivialis. Taraxacum sect. Ruderalia, Urtica dioica
Dominant species: Chaerophyllum bulbosum, Elytrigia repens, Galium aparine, Lamium maculatum. Rubus caesius, Urtica dioica
Formal definition: Chaerophyllum bulbosum cover > 25 % OR (Chaerophyllum bulbosum cover > 5 % AND Group Chaerophyllum bulbosum)
Source: Láníková D. & ©umberová K. (2009): XDE05 Chaerophylletum bulbosi Tüxen 1937. In: Chytrý M. (ed.), Vegetace České republiky. 2. Ruderální, plevelová, skalní a su»ová vegetace [Vegetation of the Czech Republic 2. Ruderal, weed, rock and scree vegetation]. Academia, Praha, pp. 360-363.