Vegetation of the Czech Republic
Association XDE06
Anthrisco nitidae-Aegopodietum podagrariae Kopecký 1974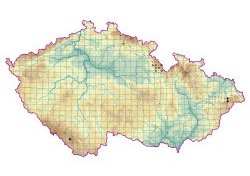 Photo on botanickafotogalerie.cz
This association is dominated by Anthriscus nitida, a tall broad-leaved perennial herb. It is a natural vegetation type of the fringes of ravine or floodplain alder forests or stream banks in submontane areas. Secondary habitats include margins of forest roads. In the Czech Republic it occurs in cool and humid, submontane to montane areas.
Orig. (Kopecký 1974b): Anthrisco (nitidi)-Aegopodietum ass. nova (Aegopodium podagraria)
Diagnostic species: Anthriscus nitida, Heracleum sphondylium; Brachythecium rutabulum
Constant species: Aegopodium podagraria, Anthriscus nitida, Dactylis glomerata. Geranium robertianum. Heracleum sphondylium. Ranunculus repens, Urtica dioica; Brachythecium rutabulum
Dominant species: Aegopodium podagraria, Anthriscus nitida, Chaerophyllum hirsutum, Petasites albus
Formal definition: Anthriscus nitida cover > 25 % NOT Petasites albus cover > 50 % NOT Petasites hybridus cover > 50 %
Source: Láníková D. (2009): XDE06 Anthrisco nitidae-Aegopodietum podagrariae Kopecký 1974. In: Chytrý M. (ed.), Vegetace České republiky. 2. Ruderální, plevelová, skalní a su»ová vegetace [Vegetation of the Czech Republic 2. Ruderal, weed, rock and scree vegetation]. Academia, Praha, pp. 363-365.