Vegetation of the Czech Republic
Association XDF01
Rumicetum alpini Beger 1922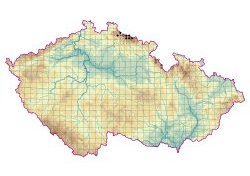 Photo on botanickafotogalerie.cz
This vegetation type consists of dense and species-poor stands of Rumex alpinus, a broad-leaved perennial neophyte introduced from the high mountain ranges of central Europe. It occurs on deep, nutrient-rich, mesic to wet soils in the areas above the timberline or in the montane belt. Most often its stands are found around mountain huts and abandoned stables. They occur in the Jizerské hory, Krkonoąe and Orlické hory Mountains.
Orig. (Beger 1922): Rumicetum alpini
Syn.: Chaerophyllo hirsuti-Rumicetum alpini Hadač 1982
Diagnostic species: Carduus personata. Chaerophyllum hirsutum. Geranium sylvaticum, Imperatoria ostruthium, Myrrhis odorata, Poa remota, Rumex alpinus, R. arifolius. Silene dioica. Veratrum album subsp. lobelianum
Constant species: Alchemilla vulgaris s. l., Chaerophyllum hirsutum. Dactylis glomerata. Ranunculus repens, Rumex alpinus, R. arifolius. Senecio nemorensis agg. (predominantly S. hercynicus), Silene dioica, Urtica dioica
Dominant species: Carduus personata, Chaerophyllum hirsutum, Imperatoria ostruthium. Myosotis palustris agg. (M. nemorosa), Rumex alpinus, R. obtusifolius. Stellaria nemorum, Urtica dioica
Formal definition: Rumex alpinus cover > 25 %
Source: Kočí M. (2009): XDF01 Rumicetum alpini Beger 1922. In: Chytrý M. (ed.), Vegetace České republiky. 2. Ruderální, plevelová, skalní a su»ová vegetace [Vegetation of the Czech Republic 2. Ruderal, weed, rock and scree vegetation]. Academia, Praha, pp. 377-378.