Vegetation of the Czech Republic
Association XEA02
Digitali purpureae-Epilobietum angustifolii Schwickerath 1944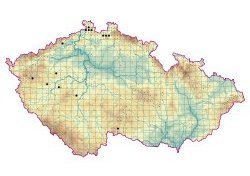 Photo on botanickafotogalerie.cz
This association is dominated by Digitalis purpurea, a western European herb which is probably alien to the Czech Republic. D. purpurea has spread especially in north-western Bohemia since the 19th century. This vegetation occurs on deforested acidophilous beech forest or spruce plantation sites. Soils are wet to mesic with low pH. It is distributed mainly in the submontane to montane belts of the climatically oceanic areas of Bohemia.
Orig. (Schwickerath 1944): Digitalis purpurea.Epilobium angustifolium-Assoziation
Syn.: Calamagrostio villosae-Digitalietum purpureae Preising et Vahle in Preising et al. 1993 p. p.
Diagnostic species: Avenella flexuosa. Calamagrostis epigejos, Digitalis purpurea, Epilobium angustifolium, Galium saxatile. Rubus idaeus. Senecio sylvaticus; Dicranella heteromalla
Constant species: Agrostis capillaris, Avenella flexuosa, Calamagrostis epigejos. Carex ovalis, Digitalis purpurea, Epilobium angustifolium, Juncus effusus. Rubus fruticosus agg. (zejména R. plicatus), R. idaeus, Urtica dioica. Vaccinium myrtillus; Dicranella heteromalla. Polytrichastrum formosum
Dominant species: Avenella flexuosa, Digitalis purpurea, Poa nemoralis
Formal definition: Digitalis purpurea cover > 5 % AND (Group Epilobium angustifolium OR Group Vaccinium myrtillus) NOT Calamagrostis arundinacea cover > 25 % NOT Calamagrostis villosa cover > 25 %
Source: Neuhäuslová Z. & Petřík P. (2009): XEA02 Digitali purpureae-Epilobietum angustifolii Schwickerath 1944. In: Chytrý M. (ed.), Vegetace České republiky. 2. Ruderální, plevelová, skalní a su»ová vegetace [Vegetation of the Czech Republic 2. Ruderal, weed, rock and scree vegetation]. Academia, Praha, pp. 386-388.