The Braun-Blanquet Project:
characterization of European vegetation types
Project aims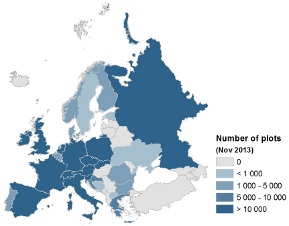 The goal of this project is to characterize European vegetation types by using information on species composition collected at plot level and stored in vegetation databases. The project is dedicated to Josias Braun-Blanquet, whose legacy has been the inspiration for collecting most of the vegetation-plot data that will be analyzed.
The characterization is based on phytosociological alliances, which are widely recognized as a meaningful abstraction of vegetation diversity. It consists of: (1) calibrating assignment rules and evaluating the consistency of alliances, (2) delimiting the geographic extent and environmental drivers of vegetation types.
The Braun-Blanquet project is also supporting the development of a new version of Turboveg software for the management of vegetation data, including new functions for integrating databases based on different species checklists.
Coordination team
Borja Jiménez-Alfaro, Masaryk University, Brno, Czech Republic (project coordinator): borja@sci.muni.cz
Milan Chytrý, Masaryk University, Brno, Czech Republic (project supervisor): chytry@sci.muni.cz
Stephan Hennekens, Alterra, Wageningen UR, The Netherlands (software developer): stephan.hennekens@wur.nl
Ilona Knollová, Masaryk University, Brno, Czech Republic (database manager): ikuzel@sci.muni.cz
Data contributors
The Braun-Blanquet project is supported by database managers and vegetation scientists from different institutions in Europe, contributing with total or partial data sets to different research initiatives developed within the Braun-Blanquet project.
SOUTHERN EUROPE - Bulgaria: Bulgarian Academy of Sciences, Sofia (Iva Apostolova); Balkan Vegetation Database (Kiril Vassilev); Croatia: University of Zagreb (Daniel Krstono¹iæ, Zvjezdana Stanèiæ, ®eljko ©kvorc); Greece: University of Patras (Panayotis Dimopoulos); Italy: ISPRA (Laura Casella); University La Sapienza, Rome (Emiliano Agrillo, Nicola Alessi, Fabio Attorre); VegItaly Database (Italian Society of Vegetation Science); Spain and Portugal: SIVIM Database, University of Barcelona (Xavier Font); University of Castilla-La Mancha, Toledo (Federico Fernández González, Maria Pilar Rodríguez Rojo).
WESTERN AND CENTRAL EUROPE - Austria: Vienna Institute for Nature Conservation and Analyses, Vienna (Wolfgang Willner); Belgium: Research Institute for Nature and Forest (Els de Bie); Czech Republic: Masaryk University, Brno (Milan Chytrý, Dana Michalcová); France: SOPHY Database (Henry Brisse); Germany: Ernst Moritz Arndt University of Greifswald (Florian Jansen); Martin Luther University Halle-Wittenberg (Ute Jandt); University of Bayreuth (Jürgen Dengler); Hungary, University of Pécs (János Csiky); Ireland: National Biodiversity Data Centre, Waterford (Úna Fitzpatrick); The Netherlands: ALTERRA, Wageningen UR (Stephan Hennekens, Joop Schaminée); Poland: University of Wroc³aw (Zygmunt K±cki); Romania: Transilvania University of Brasov (Adrian Indreica); University Cluj-Napoca (Dan Turtureanu); Slovakia: Slovak Academy of Sciences, Bratislava (Jozef ©ibík); Slovenia: Slovenian Academy of Sciences and Arts, Ljubljana (Urban ©ilc, Andra¾ Èarni); Switzerland: Swiss Federal Institute for Forest, Snow and Landscape Research (Thomas Wohlgemuth); United Kingdom (John Rodwell).
EASTERN EUROPE - Belarus: National Academy of Sciences, Minsk (Jazep Stepanovich); Ukraine: National Academy of Sciences of Ukraine, Kiev (Yakiv Didukh, Viktor Onyshchenko); Russia: Russian Academy of Sciences, Syktyvkar (Alexander Novakovsky); Russian Academy of Sciences, Togliatti (Valentin Golub, Tatyana Lysenko, Aleksei Sorokin); Russian Academy of Sciences, Ufa (Vassiliy Martynenko, Sergei Yamalov).
NORTHERN EUROPE - Denmark: Aarhus University (Rasmus Ejrnaes); Estonia: University of Tartu (Martin Zobel); Finland: University of Helsinki (Miska Luoto); University of Oulu (Risto Virtanen); Norway: Norwegian University of Science and Technology, Trondheim (Gunnar Austrheim); Tromsø University Museum (Inger Greve Alsos); University of Bergen (Vigdis Vandvik, John-Arvid Grytnes); Scandinavian vegetation database (Jonathan Lenoir); Sweden: Swedish University of Agricultural Sciences, Alnarp (Jörg Brunet).
Taxonomical authorities
Species lists from regional databases are managed in a taxonomical database using a dynamic process of species matching. This process is supervised by regional taxonomic experts, especially Erwin Bergmeier (Balkans, Eastern Mediterranean and Central Europe), Jiøí Danihelka (Central and Eastern Europe), Luis Carlón (Iberian Peninsula), Jürgen Dengler (Continental Europe) and Riccardo Guarino (Italy).
Data-analysis support
Lubomír Tichý, Masaryk University, Brno, Czech Republic (vegetation-plot data analyses).
Miquel De Cáceres, Centre Tecnològic Forestal de Catalunya, Solsona, Spain (indicator species).
Susana Suárez-Seoane, University of León, Spain (distribution modelling).
Funding
European Social Fund and the Goverment of the Czech Republic for 2012-2015 (Postdoc II, CZ, 1.07/2.3.00/30.0037).
Related projects
This Braun-Blanquet consortium closely collaborates with